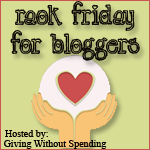 I found this MeMe over at Giving Without Spending, and I thought it was a really neat idea. So, if you're interested, go on over and join.

My first RAOK goes to...(drumroll please)...

Lin over at Duck and Wheel with String

I found Lin through Entrecard, and I enjoy visiting her blog. She has such a way with words, and she truly writes (tells) an awesome story every time she posts. She's so witty and full of humor. I seriously crack up reading her posts. From her posts, it also appears that she is a wonderful wife, mother, friend, and employee.

She's also become a great blogging buddy. Lin is a faithful commenter, and her comments also crack me up. She gives me the hardest time about serving LEFTOVERS to my family, so I implemented the YOYO (you're on your own) which I found by rummaging through blogs one day. :) So, I can't take the credit for that, but I digress.

So, without further ado, Lin...here's your RAOK award. Please post it on your blog with pride. You so deserve it!