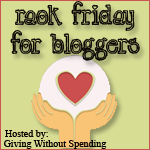 It's Friday, and that means it's time for another RAOK Friday over at
Giving Without Spending
. So, hop on over and check it out. It's such a nice thing to do, and I'm proud to participate.
So, without further ado...this week's RAOK goes to...drumroll please...
Devri @ The Naulu Tribe
Now, I cannot tell you how I came upon her blog or vice versa, but I'm glad it happened. She's got such a funny and witty sense of humor. And -- bless her heart...she's got SEVEN, yep, I said SEVEN, kiddos. She's got 5 beautiful girls and 2 cute little boys. So, I'm sure she is as busy as a bee on most days. :) But -- she still finds time to blog and comment on other people's blogs. So, it's worth your while to stop by and tell her hello. I'm sure she'll return the favor, too, because that's just how she rolls. She's such a nice bloggy friend, and I am honored to gift her with the RAOK award this week.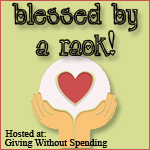 So, Devri...grab this award and display it on your blog with all the pride and joy you can muster. You soooo deserve it girl!
Won't you bless someone with a RAOK today? Please share if you do! I'd love to hear about it!