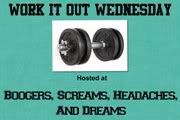 Welcome to another week of WORK IT OUT WEDNESDAY! I hope that you all had a great and successful week of weight training, cardio, and overall weight loss.
Brian and I have been at this hard core for two weeks now. We are implementing a 3 days on, 1 day off weight training schedule. We do chest/back the 1st day, legs the 2nd day, and shoulders/arms the 3rd day. It seems to be working for us, and to be honest...I'm really starting to enjoy weight training. Maybe it's because Brian and I are training together. It's always nice to spend time with your hubby, right?!!? :)
Now, we are still struggling to fit cardio into our day. Honestly, it's not really a matter of fitting it in...it's the fact that we I don't like cardio. I despise it. To me, walking on a treadmill or using an elliptical is just BORING! And the sad part -- we've done everything to make it more entertaining. We own both a treadmill and an elliptical. We've got them in our gym room (we do all of our training at home...we've got some sort of weight machine from Fitness Gear, lots of free weights, and 3 benches). Brian was even nice enough to hang a TV in the gym. Nope...that still doesn't make me like it. LOL! I have done better with it this week, but it's still a struggle. I was going to try the Couch to 5K program, but after the 1st day...well, I don't think I can do it on the treadmill. I was suffering from shin splints, sore back, and aching knees after the 1st go. Brian thinks I should just apply the same theory on the elliptical since it's less impact. Maybe I'll try that...

So, do you have any tips for me? Do you enjoy cardio?
I want to make this a fun, casual, and informative Blog Meme, so I'm going to include a fitness tip each week. No, I'm not coming up with these on my own. We all know that if I knew everything about weight loss, then we wouldn't be having this Meme. So, I'll rely on the Internet.
Fitness Tip #1
Benefits of a Beginner Weight Training Program for Women
There are many reasons why women should become involved in a weight training program. Here are just a few:
Weight training will improve your muscle tone.
Weight training will correct muscular imbalances, which will in turn improve your posture and prevent injuries.
Weight training can prevent muscle loss. Women who do not strength train will lose between five to seven pounds of muscle every decade.
****Tip courtesy of THIS website.****
Anyway, on to the results of all of our efforts...
This Week: +1.5
TOTAL: -4.5
Body Fat: -1% (I only started measuring this last week)
***I will be the first to admit that I struggle with the scale. In the past I have given up too easily if I didn't see results on the scale. This is still an issue for me, so I'm trying to tell myself that it's not the # that matters. It's the effect that working out is having on my body that should keep me motivated. Am I noticing a change? Do I feel better? Are my clothes fitting differently? If I can answer yes to those, then I know that I have to keep going. Brian assures me that even though I gained 1.5 lbs this week that I lost 1% of body fat. So, he says that I'm still okay. I guess I'll listen, but it is soooo hard when the # on the scale increases. :(***
Now, it's your turn. Jennifer @ J.LeighDesignz was kind enough to show me how to use Mr. Linky, so we can officially begin our WORK IT OUT WEDNESDAY!
Here are the rules for participating:
Post your own Work It Out Wednesday post on your blog. Then, come back here and sign Mr. Linky below linking to your WIOW post...don't link directly to your blog please.

Add the WIOW button to your blog. This will increase participation by spreading the word throughout bloggy land. :) **This is not mandatory, but I'd appreciate it if you'd do this.**

Stop by and drop some comment love and encouragement to at least 2 fellow WIOW participants. Weight loss is a hard battle, and we can all use a little extra encouragement.

Be sure to include your weekly weight loss and total weight loss in your post. You do NOT have to include your weight. I, for one, will NOT share my weight with the blogosphere, and I will NOT ask you to do so either.
Alright, I look forward to reading all about your weight loss results. So, come on and join the fun!